News
Marvel: Earth's Mightiest Exhibition will have its world premiere in Wellington
by Our Wellington — 24 July 2023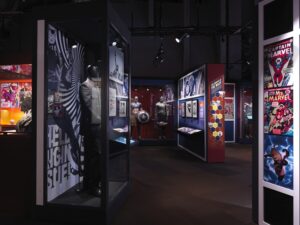 Earth's Mightiest Exhibition, a new product from Semmel Exhibitions and Marvel, will be held in December at Tākina, Wellington Convention and Exhibition Centre. The exhibition offers an immersive experience that takes audiences on a journey through the Marvel Universe, offers a new perspective on the company's rich 80-year history, and explores Marvel's global impact. Exhibits feature interactive elements, photo opportunities, immersive installations, and original artifacts from Marvel comics and movies.
Wellington Mayor Tory Whanau believes the world premiere will add to the city's already impressive global reputation in the entertainment industry, following the successful opening of Tākina in June. its status as a UNESCO City of Cinema and is ready to welcome over 175,000 people to Marvel:
The most powerful exhibit on earth. Anna Calver, head of CCO and economic welfare at Wellington City Council, said there will also be positive economic benefits to the wider Wellington area over the four months the city hosts the show. Domestic and international visitors will benefit from retail, tourism, hospitality and accommodation providers.
The Strongest Exhibition on Earth will make its world premiere at Tākina, Wellington Convention and Exhibition Center, New Zealand in December 2023. The exhibition will be brought to Wellington by Wellington City Council, in partnership with Semmel Exhibitions . WellingtonNZ will manage marketing and operational support. WellingtonNZ is the economic development agency for the Wellington Region, responsible for improving the region's prosperity, vibrancy and quality of life. Their mission is to promote Wellington as an area to visit, live, study, work, do business and invest in. Their purpose is to bring Wellington to the world and vice versa, to bring the world to Wellington.
Semmel Exhibitions, a division of the Semmel Concerts, create travel experiences to locations around the world, holding exhibitions in their own locations in Germany, Austria and German-speaking Switzerland , and also organizes an exhibition-focused program for the International Live Music Conference/ILMC. Marvel Entertainment, LLC, is one of the world's leading character-based entertainment companies, built on a proven library of more than 8,000 characters that have appeared in a variety of media in over eighty years. year.